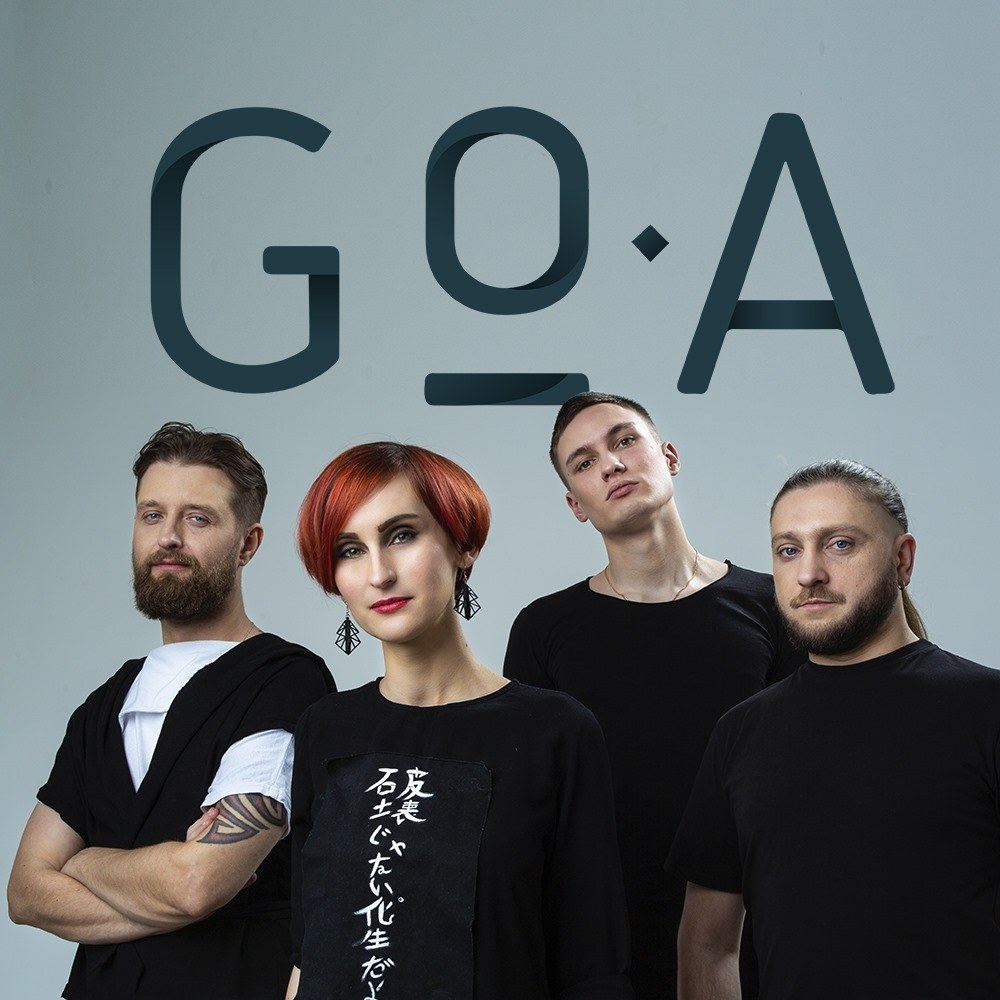 Recently we managed to catch up with GO_A, the winner of Vidbir and this year's representative for Ukraine. They answered questions about themselves, their entry and Eurovision. So, let's learn what they have to say.
Who is GO_A? What does GO_A stand for and how was the group created? Did you know each other before, or it was it just lucky coincidence?
the name Go_A consists of 'Go' as 'movement' and 'A' as an ancient Greek letter 'alpha' which stands for the origins, the beginning of everything, home or roots.
For us, this name means going back to our cultural roots. The story of the band started when sound producer Taras Shevchenko met ethno singer Kateryna Pavlenko in 2012. First, they wanted to write one song as an experiment but it worked out well. The musicians were surprised that no one had done anything alike before, therefore they decided to build their creative work on the combination of electronic music and Ukrainian folk. That's how Go_A became a music pioneer. The band has been underground for a long time even though its performances have never left listeners cold.
The band has two leaders now. Katia is responsible for ethnic direction and Taras – for electronic component of music. Nevertheless, they always surround themselves with professional musicians who help them make music deeper, more vibrant and interesting. Members of the band are the following:
Kateryna Pavlenko – lead vocals, Ukrainian folk musical selections, percussion, lyrics
Taras Shevchenko – sound producer, keyboards, percussion
Ihor Didenchuk – sopilka, multiple instruments, backing vocals, percussion
Ivan Hryhoriak – guitar
How did the idea come to participate in Vidbir? We know you became very popular in Ukraine after releasing 'Vesnianka' in 2015, why did it take until this year to participate in the competition?
We've gained popularity since the release of Vesnyanka which brought us victory in the "Best track in Ukraine" contest
but still, we stayed in music underground because we had no PR-manager and there were almost no information about us in media or TV. Nevertheless, we had several concerts in Europe for the last two years and we saw very positive reactions to our music. After that, we understood it was our time to participate in Vidbir.
What does participating and representing Ukraine mean for you in Eurovision? From where does the passion come to participate in this international event? What benefits or challenges do you see for yourself by participating in this event?
It is a chance to represent our culture on the international level since we retransmit Ukrainian cultural heritage to a wide audience. Of course, it's an honor and a great responsibility for us.
We believe that after participation in Eurovision we can arrange more concerts or even a tour in Europe.
Regarding your electro-ethno song 'Solovey'. What does the song mean to you and is there any message behind it? While listening to the song, I could understand some parts, and one part which stuck in my mind is that you are asking 'Nightingale, not to sing early in the morning' – is there some hidden message there?
The song is based on Katia's personal story. It is about a strong girl who gives in and lets herself fall in love. Then, suddenly she realizes that she is not taken seriously.
She holds on to her dignity till the last and keeps playing her role as if she doesn't really care, and yet turns the tables.
A Ukrainian folk song reinterpreted by Kateryna has become an inspiration for Solovey song.
Have you already had discussions regarding Rotterdam, and if so, what can we expect regarding staging and the song? Will be there any changes? Will you sing in Ukrainian or are you planning to change some or all of it to English for people to better understand?
We are working on our image and performance. More details will follow soon. For now we can say there will be slight changes.
Regarding the language of the lyrics, our aim is to bring a fully Ukrainian song to the Eurovision Song Contest for the first time in more than 15 years. We find this position important.
Furthermore, we're going to release a lyric video with transliteration so that everybody would be able to sing our song in Ukrainian.
Have you met any artists who have previously participated in Eurovision? If so, did they give you any advice regarding Eurovision?
Have you heard any of the other nation's songs for this year's Eurovision? As you will compete in the first semi-final, are there any songs you like, or you see as the biggest competition?
This year, we learned about many interesting performers. We also were surprised when we saw familiar names. For instance,
Hooverphonic from Belgium has already been in Kateryna's playlist for a long time.
We do not refer to other contestants as competitors because every one of them is a unique artist. From our perspective, comparing different artists is similar to comparing music instruments – you cannot say that the guitar is better than the drums or vice versa.
GO_A also send us video message and here it is:
We thank GO_A for taking their time and giving us the honest answers and wish them the best of luck in Semi Final 1 on March 12th. Only 10 countries will manage to move on to the final from what seems to be this year's strongest Semi Final this year.
For a small snippet of how their rehearsals for the show is going: