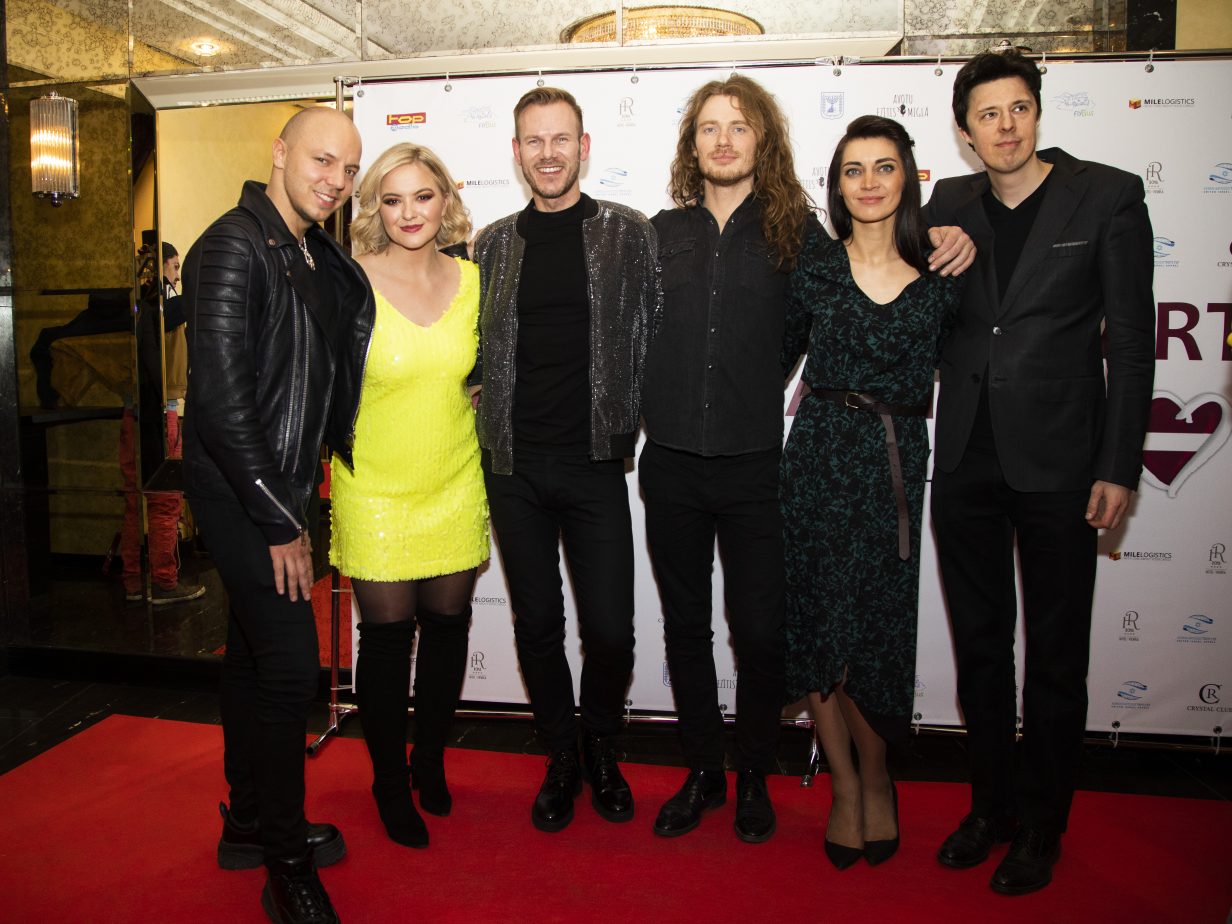 Last weekend, the 6th annual Eurovision PreParty Riga took place, inviting fans and press for a chance to meet and see some of this year's Eurovision artists perform live on stage in the Crystal Club in Riga.
Photo credit: Eurovision Club OGAE Latvia
The line-up this year was:
Carousel, Latvia's Eurovision representative this year – Sabīne Žuga, Mārcis Vasiļevskis, Staņislavs Judins and Mareks Logins.
KEiiNO, Norway's Eurovision representative this year – Tom Hugo Hermansen, Fred-René Buljo and Alexandra Rotan.
Monika Marija, runner-up of the 2019 Lithuanian national selection (Eurovizijos).
Edgars Kreilis, Supernova finalist and participant for the last few years.
The artists were all in a great mood when they greeted the press for a press conference and interviews at the Ezītis Miglā cafe (The Hedgehog in The Fog).
As the motto of this year's Eurovision is "Dare to Dream", the artists were fittingly asked as a starter question, which dreams they had dared to dream, and if and how they had come true for them. Across the table, there was an agreement that singing, playing music, performing on stage, were a dream that had come true for them, with some of them going to be performing on the Eurovision stage in Tel Aviv.
Photo credit: Eurovision Club OGAE Latvia
Tom, of KEiiNO, mentioned how seeing Bobbysocks for the first time inspired him to dream of performing on the Eurovision stage some day, and how being able to stand on stage now, a group of people who individually are not accepted 100% everywhere for who they are, is a dream come true for him. Fred joined in and stated how being able to show Sami music to the world has always been his dream, and now, that dream is coming true on the Eurovision stage.
While Monika said she never explicitly dreamed of standing on the Eurovision stage, she dreamed of being a singer, and that came true, which makes her very happy, hoping that that dream will continue to come true and make her happy in the future as well. Edgards had to confess that he was still dreaming about standing on the Eurovision stage some day, looking over at KEiiNO and Carousel, "I want to be you"!
Photo credit: Eurovision Club OGAE Latvia
The press conference also revealed a few hints of what to expect on the stage in Tel Aviv, if the artists would consider going through the selection process again, or what was in store for them in the future albums.
KEiiNO said that they were coming up with a new stage show, compared to what was shown at Melodi Grand Prix, mainly due to the limitation that there is a six person limit on the stage in Eurovision. Them being already three limits their options, compared to the Norwegian selection where we saw dancers and many drummers as part of the show. On the other hand, Carousel mentioned that they planned to stick to what was in the Latvian selection show, an intimate black and white performance, with only minor changes, such as wardrobe and a few highlights here and there.
Photo credit: Eurovision Club OGAE Latvia
Carousel also mentioned that they were currently working on an album, which they hoped to release very soon, within the next few weeks. KEiiNO mentioned that they had plans for a concept album, collaborating with indigenous people, to incorporate indigenous languages in the songs – they also mentioned that they would be releasing a single soon with a cover of Lady Gaga's Shallow. Monika just released her debut album in December, and was currently still busy with that, but also mentioned that she loved writing music so would expect work on a new album to start towards the end of the year, or the beginning of the next year. Edgars mentioned that he already had a lot of singles and would love to combine them on an album, adding national songs to it as well.
The artists also revealed some of the most memorable moments that had happened to them on stage, with Monika telling a story about how the heel of her shoe got stuck in the floor during a cover of Whitney Houston's "I will always love you". About how she tried almost manically to get the shoe loose without letting it show to audience that something was wrong, only just managing in the final part of the song. Fred mentioned, how on the stage at Melodi Grand Prix in Norway, it was his first time joiking live in front of an audience, and how memorable experience that was for him, and similarly at the pre-party in Amsterdam, hearing thousands of people in the audience trying to joik to the song as well. Tom told a story about how with his former band once during a concert all the electricity went out, so he pulled a chair to the front of the stage, and sat with an acoustic guitar and sang for the audience like that, feeling amazed how silent people can be when they want to.
Photo credit: Eurovision Club OGAE Latvia
To a question if the artists knew any of the previous Israeli entries, Alexandra, followed by Tom and Fred, broke into a medley of past Israeli winners and entries, singing Milk and Honey's Hallelujah, Dana International's Diva, Lazy Bums' Shir Habatlanim, Teapacks' Push the Button, and Netta's Toy, and after jokingly admitting they had taken all the easy ones, joined in with Carousel to sing a bit of the Latvian entry, That Night.