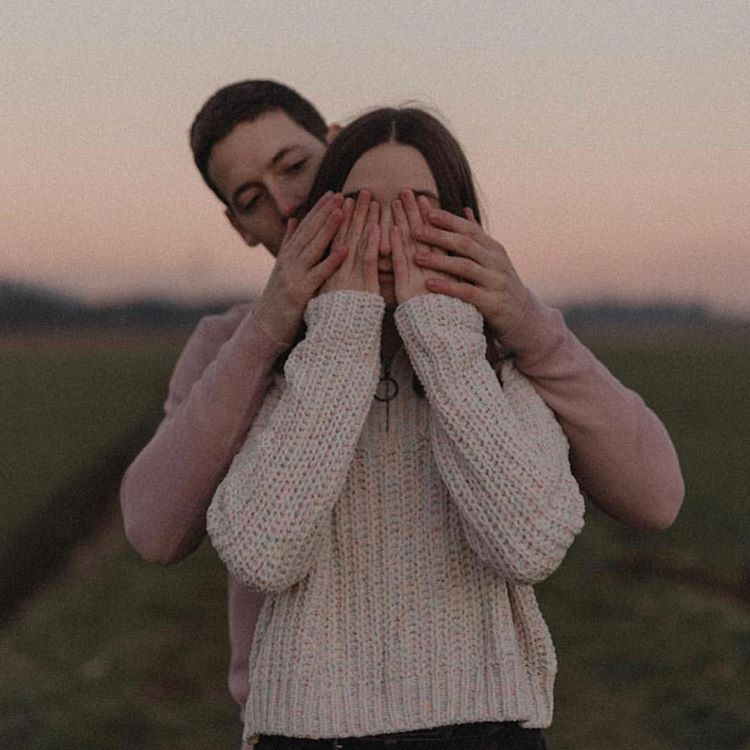 We managed to snatch an interview with Zala and Gašper and are amazed by their answers. Yesterday Gašper turned 23, making the duo one of the youngest performers in the Eurovision Song Contest this year. They will represent Slovenia with their electro-pop song 'Sebi'.
Can you tell us who are Zala Kralj & Gašper Šantl? The duo is pretty young and we, the fans, wonder how did the idea come up for creating this duo?
We are Zala Kralj & Gašper Šantl, a duo from Slovenia. We use music to tell our stories and describe our feelings. We are kinda awkward, slow, sleepy and we like soft colors. We met when Gašper was searching for a vocalist. His friend Žiga, who now films all our music videos, showed him Zala's covers on Instagram and Gašper knew he has found what he was looking for. This resulted in our first single – Valovi.
We love the kind of music you create and will bring to the Eurovision Song Contest. Can you tell us a bit about your process behind creating your music, is one more in charge of lyrics while the other the music, what is the magic behind it?
We do everything together. We understand each other so well, that we can interpret each others music or lyrics, so we really couldn't separate our credits. We are originally authors, not performers, and we feel most comfortable creating together. Just being home, writing and recording stuff we're proud of.
Who inspire you music wise?
We try to be influenced as little as we can and keep our own style, but here are some artists we really like: Rhye, Sohn, James Blake, Glass Animals, The National…
What does winning and representing Slovenia in Eurovision mean to you?
We're very happy that we were so well accepted and that we touched all those hearts. That's the best thing that can happen to an artist.
In one of your interviews you said that you do not like too much attention, but as you probably know, Eurovision Song Contest is a huge music environment and there are will be media from all over the world. Does this heightened attention intimidate you? And how do you feel about Eurovision and the media surrounding it spreading your music across Europe and to potentially 100s of millions of viewers/listeners?
It is true that we do not like too much attention, but we are happy to get a chance to introduce our music to people who haven't heard it before. We just want to stay true to ourselves and we hope for people to connect with our song and its message. If there is one heart that we touch, that's a win for us.
Your music is mostly electronic music, but you also know how to play the more classic and acoustic instruments. Do you plan to bring any instruments with you to Tel Aviv, and if so should we expect to for instance see you strumming a guitar backstage during Eurovision?
Hmm, maybe, we haven't been thinking about it yet, but thanks for the idea.
Can you tell us what 'Sebi' means to you? What is the message behind it? How are you going to make sure that people voting for you understand the song?
Imagine following a star, which later gets covered by a cloud. You've got nothing left but to rely on yourself and stay true to who you are. That's what our song is about. It's about staying true to yourself, even when the times are tough. It's about not apologising for who you are.


Since it is a song about being who you are, we hope each person understands it in their unique way!
What can we expect from your performance Tel Aviv, are you going to change staging or maybe be singing in English?
The idea and the concept of our performance will definitely stay the same. We will only polish the details. The song is going to stay in Slovene. Firstly, because we think it's a wonderful language if you use it wisely and secondly because the whole message of the song and our creating is being who you are and this song was meant to be sung in Slovene. It would feel kind of cheap if we changed it just for the sake of Eurovision. However, we have written an English translation of the lyrics and we might record a short part of the song in English (just as a short video for Instagram or something like that).
When representing your country in Eurovision you will be out of your home country for two weeks or more. What is the one thing that would bring with you from your home country that you would not want to be without?
Each other and some people we really love, who will be there to support us!
We thank Zala and Gašper very much for participating in this interview, and wish them the best of luck in Tel Aviv. Here is their song 'Sebi'. Tell us what you think in the comments below.