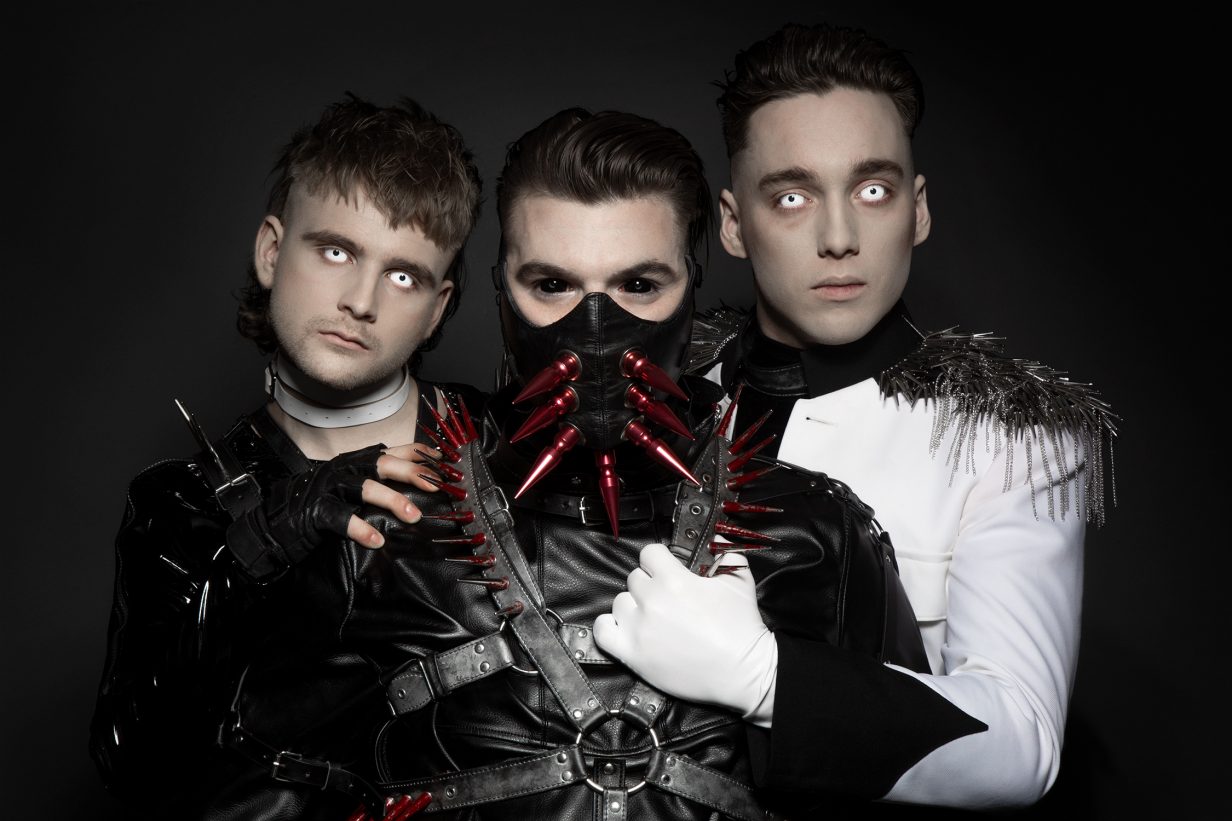 Photo Credit: Lilja Jóns
Icelanders were probably the first to call for a boycott of Eurovision after Netta's victory 'Toy' and her political message: 'Next year in Jerusalem'. Árni Steingrímur Sigurðsson started a petition about this and managed to get 18,000 signatures during May last year. However, despite
the popularity of the petition, Skarphéðinn Guðmundsson, program director at RUV, told that Iceland would participate.
Hatari is the Icelander's hopeful, who won the competition in Iceland and will perform their cynical entry 'Hate will prevail/Hatrið mun sigra' in Tel Aviv this year. We managed to talk with the band and get to know them a bit better.
Photo Credit: Lilja Jóns
Can you tell us who Hatari are and how the idea of creating it came? Who inspired you to create such a group? And how did you find each other?
Hatari is a political, multimedia project that aims to take the lid off the relentless, unfolding scam that is everyday life. We cannot change things, but we can unveil the anomie of neoliberal society, the pointlessness of every minute spent in the futile race, and the low price for which man now sells himself ever more blatantly. We can scream at our own impotence, scream at our collective sleepwalk through routine, and implore our audience to unite, shoulder to shoulder, and dance. Dance, or die. Hatari represent a considered reflection on hope and hopelessness, power and repression, of image, individualism, despotism, exposing the contradictions that arise when everyone is embedded within the same system and struggling to fight against it. We are Hatari. We are all Hatari.


Hatari was founded in Reykjavík, Iceland in 2015 by Klemens Hannigan and Matthías Tryggvi Haraldsson with masked drummer Einar Hrafn Stefánsson joining shortly after. Joining them on the Eurovision Song Contest stage to dismantle capitalism are dancers/choreographers Sólbjört Sigurðardóttir, Andrean Sigurgeirsson, and Ástrós Guðjónsdóttir.
In Eurovision, as you know, besides selecting best music, people vote for other aspects as well. One of them is the message/lyrics of the song. Given the English translation of the title 'Hate will prevail' – what or who is this hate for? Are you planning on changing the lyrics to English or how will you make sure that your listeners understand the idea behind?
Hatrið mun sigra is, in our view, a dystopia, a reflection on power and the powerless, hope and hopelessness. It is a dark vision of the future, a warning against what we see as a possible reality if we do not love one another. We hope this message resonates with people of all countries and languages.
What can we expect in Tel Aviv? Are there going to be any changes regarding the staging or is it going to be similar to what we saw in the Icelandic national selection? Can you explain us about the staging? Why all the BDSM gear and everything? Does it have any symbolic meaning?
We can reveal nothing about the staging other that everything is going according to plan. BDSM is a profound expression of individuality. We do, however, believe that there is no such thing as BDSM costumes, if you think about it. We draw on the themes of expression and repression, power and powerlessness, which are so clearly portrayed in BDSM culture, but are also found in a wider context. These themes manifest in many ways in society.
Your entry is unique compared to the other entries in this year's Eurovision. Do you think it is a good sign that you are very different from the other artists?
By winning you will also represent the Icelandic identity at Eurovision. Are you planning to be 'Lordi' of Iceland? What would winning Eurovision mean to you?
Our overwhelming victory in the Icelandic preliminaries and subsequent rising popularity across Europe tells us that the people agree with our agenda of upholding a critical discussion about the competition's context. Eurovision is a political affair. Winning the Eurovision Song Contest would bring us one step closer towards our goal of dismantling capitalism.
As you are probably aware of, the Israeli Civil Rights Organization, Shurat HaDin, has called for a ban of you from the competition. How would you feel or what you would do to prevent such actions? What are your reactions regarding this, and to Israel?
Hatari welcomes all criticism. Their anger legitimizes our criticism just as a law against the boycott movement legitimizes its methods. If Iceland's entry ignores the fact that the song contest is political by nature, it undervalues the need for critical dialogue concerning human rights.
When representing your country in Eurovision you will be out of your home country for two weeks or more. What is the one thing that would bring with you from your home country that you would not want to be without in Tel Aviv?
In Israel we are sure to need a refreshing beverage such as that of premier Icelandic drink manufacturer SodaDream, exporters of the purest water left on Earth. Ending capitalism is a very expensive affair and we are very thankful to our sponsor, SodaDream, to help us realize our dreams. Dare to dream.
We enjoyed our interview with Hatari and we are really grateful for them to take their time and answer all of our questions. To tell the truth, it is also one of my favorites. In the end, we would like to share with you their official video for their Eurovision entry.
What do you say guys #hatewillprevail or not? Comment below what do you think of Hatari?